In honor of National Volunteer Month, we wanted to highlight a couple who goes above and beyond to touch the lives of our students. Meet Jeff & Diane Broadus:
Jeff & Diane Broadus are a dynamic duo: peanut butter and jelly, if you will. She's a bit practical; he adds a little flavor to the day. They just fit—and together, they bring their shared love for Jesus, individual talents, and overall awesomeness to Parker Street Ministries (PSM) every Monday as volunteers in the after-school Academic Enrichment Program.
In fact, the couple has reached somewhat of a celebrity status among the students. Whether kids are asking them about their 40-year marriage, commenting on their ages, shouting "Mr. Jeff! Mr. Jeff!" when they see him across the park or telling their friends Diane is the lady who taught them that 7×7 is 49, there's lots of curiosity towards—and love for—the Broaduses!
And they've been around a while. Diane was the first to volunteer. She heard about PSM through their church, Trinity Presbyterian, and got involved with the after-school program almost a decade ago. With a background in teaching, Diane enjoys helping students with their homework.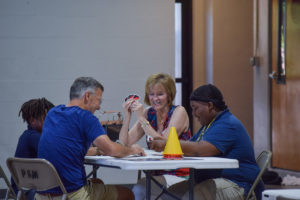 When it comes to tutoring, Jeff says his wife focuses on retention. "The kids get excited," he says, when they see her the next time and can demonstrate their multiplication memorization.
Jeff, who began volunteering when he retired about five years ago, is known for his creativity. It's not uncommon to see students hurrying from room to room on a quest from Mr. Jeff who has somehow turned the day's learning activity into a fun adventure. He also engages the kids by using what they're good at or interested in to teach.
The kids "just flock to him," says Diane of her husband. "He's really good with them." Of course, his magic tricks don't impede his likeability either.
While having fun and finishing homework is important, the Broaduses do hope their impact goes beyond the classroom. Diane says she wants the kids to know "they're loved," and she hopes PSM is always associated as a place that's "safe, wholesome, and happy."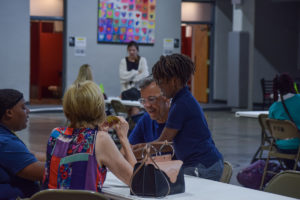 Jeff agrees. "We all talk about the command of Jesus to go and witness for Him, but we're somewhat reluctant to do it," he says. However, he's found that volunteering has made Jesus' commission a little easier. "You don't have to say much, you just have to be the light."
While some days are harder than others, Jeff and Diane have been committed to building relationships and have loved watching students grow and mature from year to year.
"For me," Jeff says, "it's all about seeing that smile on a kid's face when you know their name, give them a hug and a high five, and bring some joy into their life."
For information about volunteering at Parker Street Ministries, click here. Those who are interested, just know that Jeff and Diane would be happy to show you the ropes!
__________
Parker Street Ministries (PSM) is a 501c3 nonprofit in Lakeland, Florida that follows a Gospel-centered model characterized by living, listening, affirming dignity, and building community together in and through the Parker Street neighborhood. For more than two decades, PSM's vision has been to see a city transformed by the power of the Gospel through building champions who make possible desirable neighborhoods, lifetime learners, financial sustainability, and healthy communities for all.