More Ways to Serve the Parker Street Neighborhood
You shall love your neighbor as yourself. – Mark 12:31

Backpacks / Uniforms
In July of each year, we hold a back-to-school drive called Start Smart Education Essentials. Supplies, including backpacks and uniforms, are personalized for each student so they can begin the school-year prepared for their unique school assignments. To help a specific student, email christina@psmlakeland.org for an assignment. To shop our Amazon wish list, click here. 
For 2023, deliver items by July 28 to 719 N Massachusetts Ave, Lakeland, FL 33801.
To give online, visit psmlakeland.org/startsmart.
Questions or to schedule pick-up, call (863) 682-4544.
We can always use school supplies throughout the year because backpacks wear out, and we utilize a bank of supplies for homework and school projects. Take a look at the next section for our year-round school supply list.

School Supplies
More than 100 children are offered 800+ hours of academic support year round. That requires a lot of supplies be kept on hand at PSM. Help parents, schools, teachers, and students be prepared by hosting a drive anytime to refresh our supplies OR watch the website in July for the annual, personalized drive (Start Smart Education Essentials) for each student which provides backpacks filled with custom supplies and two new sets of uniforms.
YEAR-ROUND SCHOOL SUPPLY LIST
Backpacks (individual styles/colors & clear)
Pencils
Pens
Markers
Colored pencils
Highlighters
Glue sticks
Notebook paper
Binders (1-inch)
Tab dividers
Small poster boards
Kindergarten writing paper
Wired earbuds (not wireless or Bluetooth)
Tissues
Hand sanitizer/Lysol wipes/hand wipes
Deliver to 719 N Massachusetts Ave, Lakeland, FL 33801. Questions or to schedule pick-up, call (863) 682-4544.

Healthy Snacks for Academic Enrichment Program
Please help expand palates, teach portion control, and build healthy bodies by donating to our year-round healthy snack drive. Healthy snacks are served in our Academic Enrichment Program daily. We collect individually packaged snacks in increments of 50-100 servings. See a list of healthy snack ideas below or view wish list here. 
Contact Hannah Scruggs at (863) 682-4544 or volunteer@psmlakeland.org to arrange timing and delivery of snacks.
HEALTHY SNACKS IDEAS
Animal crackers
Apples
Bananas
Carrots
Cheez-Its
Chex Mix
Granola bars
Mozzarella cheese sticks
Oranges and/or Cuties
Popcorn
Portable yogurt
Pretzels
Small packages of peanuts
Small packages of trail mix

Christmas Gifts
Shop our wish list below for the annual Neighborhood Christmas Store!
CHRISTMAS STORE WISH LIST
Teen bedroom accessories/décor: pillows, lamps, wall art, etc.
Teen make-up, nail polish
Teen cologne/perfume
Teen fitness equipment
Electronic phone accessories: speakers, chargers, etc.
Art supplies for children & teens
Jewelry for children & teens
Lotion and hair accessories for children & teens
Purses and wallets for children & teens
Dolls/Barbie dolls (Black, Hispanic)
Footballs, basketballs, kickballs
Educational toys, games, and puzzles
Skateboards
Baby/infant toys
Preschool toys
Funds to buy wheeled items
LEGO toys of all sizes
Preschool dress-up/role playing outfits/supplies
Christmas wrapping supplies: gift bags and bike bags (all sizes from small to large), tape, bows, scissors, gift tags, and wrapping paper

Stocks & More
Appreciated stocks. Mandatory distributions from IRAs. Estate planning. Employer matches. We have been blessed by all these channels of generosity. For more information, email Sarah Breed at sarah@psmlakeland.org or call (863) 682-4544.
Parker Street Ministries, Inc. is a 501(c)(3) charity. Deductibility should be determined by your tax advisor.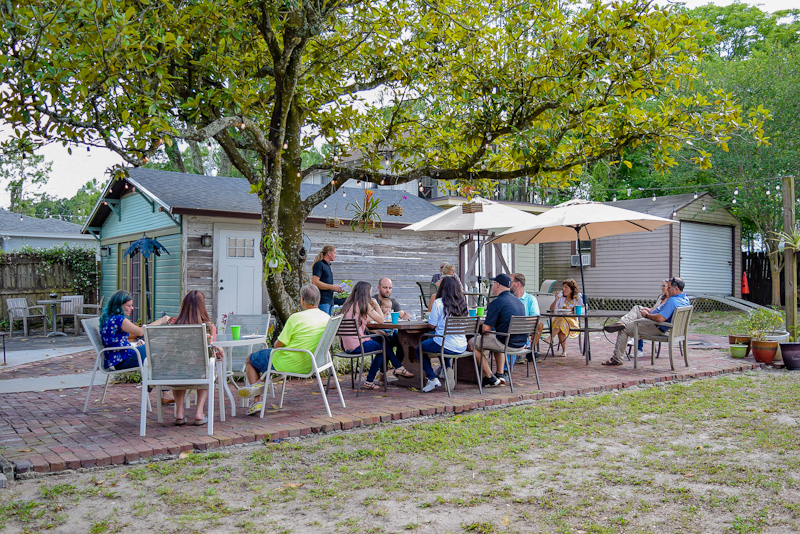 Invite a Staff Member to Your Group or Home to Speak
Lines dividing community are disturbing and prominent. We believe engagement with Parker Street Ministries allows all people to get out of bubbles, erase a few lines, and follow Jesus' command to "Love your Neighbor."
House or group gatherings make connections, neighbor to neighbor, so that friends throughout Lakeland are aware of how to best love their neighbors in the Parker Street neighborhood. This involves hosts setting the stage for meaningful conversations with donors, volunteers, praying friends, and future friends.
Interested in hosting? Call (863) 682-4544.