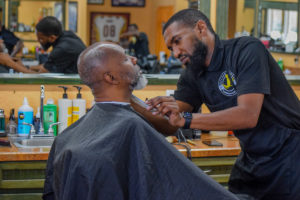 In honor of Black History Month, we wanted to highlight a Parker Street resident who is an inspiration for not only what he can do with do with a comb and a trusty pair of clippers, but also for his dedication to local youth. Meet Jairus Rutherford:
Jairus Rutherford is a barber. He's also an artist. For Rutherford, a longtime Parker Street resident and owner of Second 2 None Barbershop & Skate Supply, those two professions are perfectly interchangeable.
"I wasn't really taught to be a barber. I just picked up a pair of clippers one day and started cutting. It became a form of art," says Rutherford, who turned a love for drawing into a passion for cutting hair.
Rutherford opened his first shop in 2007 on Memorial Blvd. Since then, he's changed addresses and even opened a second location in Plant City for several years. Second 2 None is now located at 1320 N Florida Ave, Lakeland, FL 33805.
While Rutherford certainly brings joy to those who sit in his barber chair, what you might not know is what he's doing to uplift and support local youth. The Arthurine B. Rutherford Scholarship, named in honor of his late mother who was a teacher, is awarded to students who excel in areas such as attendance, GPA, and discipline. Second 2 None's basketball program also aims to teach young athletes about confidence, commitment, and integrity.
Rutherford, a father of five, says he wants to inspire youth to do their best in life and to be strong in character. "Whatever you work towards, whatever you put in—that's what you're going to get out [of life]," he says.
Black History Month is important for the younger generation as it reminds them of those who went before them, paving the way for their own futures, he says. When youth learn about the sacrifices of others and understand what they were able to accomplish, Rutherford says they, in turn, realize "they can do it, too."
For more information about Rutherford and Second 2 None Barbershop & Skate Supply, visit https://second2nonebarbershop.com/.
__________
Parker Street Ministries (PSM) is a 501c3 nonprofit in Lakeland, Florida that follows a Gospel-centered model characterized by living, listening, affirming dignity, and building community together in and through the Parker Street neighborhood. For more than two decades, PSM's vision has been to see a city transformed by the power of the Gospel through building champions who make possible desirable neighborhoods, lifetime learners, financial sustainability, and healthy communities for all.