Meet Zach Gilmore: Artist, writer, and Project Room mentor at Parker Street Ministries!
Zach Gilmore is a storyteller. Since he was a kid, all Zach wanted to do was to bring to life the words and imaginings in his brain and share them with others. He spends his free time drawing, writing, and turning his sketches into coloring pages—pages that many children in Parker Street Ministries' year-round Academic Enrichment Program have enjoyed.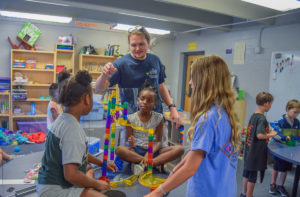 A part-time staff member here at PSM, Zach has been connected to the ministry for many years. Growing up not far from the neighborhood, he spent summers here volunteering with his church. In 2019, Zach was hired as the Tutoring Room Classroom Leader. He's now the Project Room Classroom Leader—a position that allows his creative spirit to shine and inspire!
Project Room is a self-directed and interest-based learning initiative that was introduced at Summer Camp in 2021. Sparking innovation, Project Room allows participants to work on their own STEAM-related masterpieces (STEAM includes the arts as well as science, technology, engineering, and math).
"It's very important to establish a lot of the basics early on, because there are a lot of fields available in the STEM and STEAM realm," says Zach, who enjoys seeing his students learn to express themselves and take initiative. "I think the projects I'm most impressed by are the ones I personally have very little involvement with—where I kind of just let students loose and suddenly they've built a whole set of tools out of cardboard and duct tape."
Zach's background in creative writing has helped him in the Project Room. "I think it's important that I'm able to communicate everything students need to know right up front and as quickly as possible so they can jump in and create whatever they want to create," he says.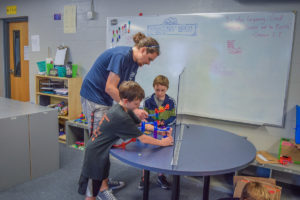 In the future, Zach would love to see more projects dedicated to problem-solving. He also wants to add more specialized skill opportunities such as computer coding.
Over the last three years, Zach has enjoyed the PSM community and building relationships. Zach says he looks forward to the moments when he really connects with the kids. "It's just a very rewarding experience," he says, "I look forward to coming to work."
For information about job openings here at Parker Street Ministries, click here.
*Special thanks to the George W. Jenkins Fund within the GiveWell Community Foundation and its grant to spruce up the Project Room!
__________
Parker Street Ministries (PSM) is a 501c3 nonprofit in Lakeland, Florida that follows a Gospel-centered model characterized by living, listening, affirming dignity, and building community together in and through the Parker Street neighborhood. For more than two decades, PSM's vision has been to see a city transformed by the power of the Gospel through building champions who make possible desirable neighborhoods, lifetime learners, financial sustainability, and healthy communities for all.