Tracy Wilson is a longtime PSM supporter and current Advisory Committee Member. Learn a little more about her below.
What drew you to PSM?
In the early 2000s, my church (First Presbyterian Church) became involved in Parker Street and we started a small project team to help. From that point on I've been hooked! The mission statement really meant a lot to me with some of the staff living right there in the neighborhood. I was born and raised in Lakeland, so seeing a team of Christians work so hard to care for a neighborhood that had so little hope spoke volumes to me. 
Why have you stayed connected for so long?
The mission and the people in the neighborhood, including the staff, are just compelling and contagious. I get so much more out of my time and efforts with Parker Street than I ever give. I am so blessed to have been a part of and still get to be a small part of such a big God thing in Parker Street Ministries.
What has God taught you because of this connection to PSM?
God has shown me there are so many ways to "do ministry" and that probably the most important thing is relationships. Without the relationships that the staff and volunteers have developed, their impact on the sharing of the Gospel would be minimized. And the ministry team is such a model of consistency and persistence. It would have been so easy to give up on so many people, projects, and goals over the years but trusting in God has led them all this far and with a vision even greater for the Kingdom.
Favorite PSM memory?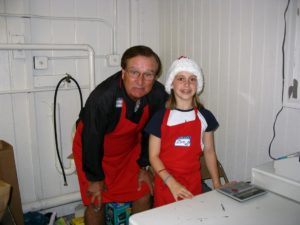 The early days of the Christmas Store when we were still on Oak Street in the Shepherd house. My entire family would volunteer, both my children and even my mom and dad. This picture is from 2004 with my dad and my daughter. We would store all the gifts in my garage because there was no other place to put them until the days of the store. This was some of the initial volunteering and serving that we were able to get to model with our children and it has carried them into their own generation and service to others. 
Favorite scripture? 
Romans 8:39 – "Neither height nor depth, nor anything else in all creation, will be able to separate us from the love of God that is in Christ Jesus our Lord." 
This is such a good reminder in times of so much angst and conflict in the world around us.
__________
Host a House Party
Watch Tracy share about her experience hosting a House Party! This year, we are asking to be invited into homes throughout Lakeland to be part of meaningful conversations with volunteers, donors, praying friends, and even future friends. The concept is simple: Invite your friends, church groups, etc. over for a short, informal gathering. PSM's Executive Director, Tim Mitchell, will attend and speak about the ministry and ways to get involved. The rest of the time will be spent fellowshipping with one another.
Would you be willing to host? If so, call (863) 682-4544 or email sarah@psmlakeland.org.
__________
Parker Street Ministries (PSM) is a 501c3 nonprofit in Lakeland, Florida that follows a Gospel-centered model characterized by living, listening, affirming dignity, and building community together in and through the Parker Street neighborhood. For more than two decades, PSM's vision has been to see a city transformed by the power of the Gospel through building champions who make possible desirable neighborhoods, lifetime learners, financial sustainability, and healthy communities for all.