Parker Street Ministries' very own CEO, Tim Mitchell, was named the 2021 Jere Annis Leadership Award Recipient by the Leadership Lakeland Alumni Association (LLAA).
The Jere Annis Award was established in 1989 by the LLAA to honor the late Dr. Jere Annis, an organizer of the Lakeland Chamber's Leadership Lakeland program, Chair of Classes I & II, and a founder of Watson Clinic.
The recipient of this award must meet the following criteria:
Graduated from the Leadership Lakeland Program.
Contributed significant community service within the Lakeland area with an emphasis on government, civic, and social service.
Created a definite positive impact on the community.
Involved in the community on a continuous basis.
Past award recipients select a winner annually, and the LLAA donates $1,000 to a local charity selected by the Jere Annis recipient.
Congratulations, Tim, we're so proud of you!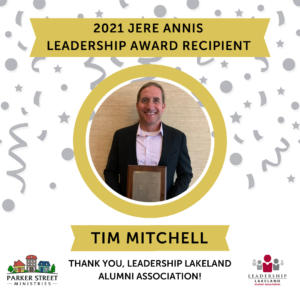 __________
Parker Street Ministries (PSM) is a 501c3 nonprofit in Lakeland, Florida that follows a Gospel-centered model characterized by living, listening, affirming dignity, and building community together in and through the Parker Street neighborhood. For more than two decades, PSM's vision has been to see a city transformed by the power of the Gospel through building champions who make possible desirable neighborhoods, lifetime learners, financial sustainability, and healthy communities for all.