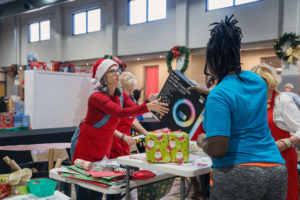 It was wonderful having Christmas Store back on campus this year with lots of volunteers! Once again, the community abounded in generosity. As a result, families from two low-income neighborhoods were blessed!
In case you didn't know, Parker Street Ministries' holiday festivities run a little differently. The hope is to love neighbors extravagantly and to affirm the dignity of parents who select and purchase new toys for their children at a steep discount. To those ends, a fully functioning neighborhood store is provided. The community provides brand new toys and funds to purchase toys. A similar concept works out through a separate Kids' Corner where children and teenagers come shop for their parents and loved ones at even steeper discounts.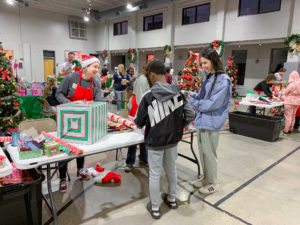 This year, more than 1,200 benefited—parents, kids, family members, volunteers, donors: all participated in The Gift of Giving! Here's a look at numbers for the 2022 Christmas Store:
More than $35,000 (retail value) in new toys were sold at 75% off their cost
32 businesses, churches, organizations, and countless individuals donated toys and wrapping paper supplies
77 families shopped for 231 kids over the course of three days at Christmas Store
97 children and teenagers purchased 485 gifts for their family members at Kids' Corner (all items were $1 or less!)
386 volunteers filled various activity slots, totaling 1,015 volunteer hours throughout Christmas Store 
After Kids' Corner, excess toys and gifts were donated to local nonprofits to round out their holiday ministries.
Staff and Board rejoice knowing neighborhood families enjoyed the ability to provide for their loved ones and were pointed to The Father who gave Jesus, the embodiment of every good and perfect gift.
THANK YOU!
__________
Parker Street Ministries (PSM) is a 501c3 nonprofit in Lakeland, Florida that follows a Gospel-centered model characterized by living, listening, affirming dignity, and building community together in and through the Parker Street neighborhood. For more than two decades, PSM's vision has been to see a city transformed by the power of the Gospel through building champions who make possible desirable neighborhoods, lifetime learners, financial sustainability, and healthy communities for all.