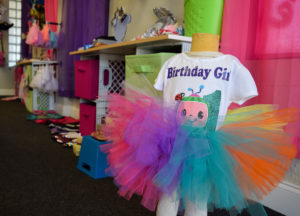 In honor of Women's History Month and International Women's Day (March 8), we wanted to highlight a Parker Street resident who is an inspiration to young girls and women who dare to dream. Meet Karen Spencer:
Karen Spencer will confidently tell you, "your gift will make room for you." In her case, this Proverbs 18:16 reference is part of her story—one that started with a tutu.
When Spencer, who has lived in the Parker Street neighborhood for more than a decade, was pregnant with her daughter, Tiana, she began making tiny tutus and bows—perfect for her little bundle of joy. Spencer soon learned she had a knack for it, and over time, she dreamed of one day opening her own boutique specializing in girls' accessories and clothing.
In September 2021, Spencer did just that, and quietly opened the doors to Tiana's Bowtique, located at 1211 E Main St, Lakeland, FL 33801. The shop will officially launch on April 30, 2022.
"Don't let anyone tell you that your dream can't be a reality," Spencer says. "God put that dream in you, and it's not for everyone else to understand. It's yours."
Spencer certainly faced her fair share of doubt and setbacks. Along the way, there have been many late nights spent sewing ruffled socks and countless prayers sent upward asking God to make ends meet. Eventually, Spencer said she came to realize that "God is going to take care of everything."
She kept the faith, and business continued to come in. Initially, Spencer worked on projects in her home but soon needed more space. She moved her materials into the garage and ultimately ended up utilizing a storage shed until she was able to finally move into her storefront location.
"I'm here every day doing everything that I can because it's important to me," says Spencer.
Motivated by her love of family, Spencer—who has nine children between her and her husband, Gamal—has particularly enjoyed the time that owning her own business has allowed her to spend with her youngest.
Named after the Disney princess known for dreaming of opening her own restaurant, Tiana was the inspiration for Spencer's boutique. Mother and daughter enjoy unboxing new, colorful ribbons together. "She loves the time with me, and I love the time with her," Spencer says.
Plans for Tiana's Bowtique include sewing classes, story time, and tea parties!
Whether she knows it or not, Spencer—who is also a community advocate and spokesperson for autism awareness—is an inspiration for Tiana and little girls just like her.
Considering March is Women's History Month, Spencer says it's important to remember that "women are so strong, and we fight so hard for the things that we want; we need that recognition, we need to know that we're doing okay."
Take the time today and acknowledge and thank the important women in your lives.
For more information about Spencer and Tiana's Bowtique, click here.
__________
Parker Street Ministries (PSM) is a 501c3 nonprofit in Lakeland, Florida that follows a Gospel-centered model characterized by living, listening, affirming dignity, and building community together in and through the Parker Street neighborhood. For more than two decades, PSM's vision has been to see a city transformed by the power of the Gospel through building champions who make possible desirable neighborhoods, lifetime learners, financial sustainability, and healthy communities for all.