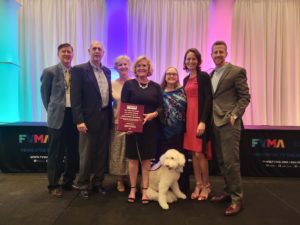 Parker Street Ministries' favorite tutu-rocking Labradoodle, 13-year-old Bella Bray, is one special dog—and now she has an award to prove it!
The Florida Veterinary Medical Association named Bella its 2022 Pet Hero for furthering the human-animal bond through exemplary service. She was nominated by Dr. Marc Presnell, owner of Santa Fe Animal Hospital.
In addition, Mayor Bill Mutz proclaimed March 18, 2022, as Bella Day at the most recent Lakeland City Commission Meeting in recognition of Bella's service as a certified therapy dog.
Over the years, Bella and her best friend, Teresa Bray, brought smiles to countless children and adults. Not only has Bella served as a reading pal for area students, but she comforted grieving kids at Camp Braveheart and even visited those in hospice.
Congratulations to this top dog! We love you, Bella!
Bella's favorite PSM memory:
Making lots of new frenz at events like Fall Festyval.
Best life advice from Bella:
To the floofers and puppers: Love unkondishunaly and eat lots and lots of snaks.
To the hoomans: Gib good belly rubz to all the doggos.
Bella's favorite scripture:
"She said, 'Yes, Lord, yet even the dogs eat the crumbs that fall from their masters' table.'" – Matthew 15:27
__________
Parker Street Ministries (PSM) is a 501c3 nonprofit in Lakeland, Florida that follows a Gospel-centered model characterized by living, listening, affirming dignity, and building community together in and through the Parker Street neighborhood. For more than two decades, PSM's vision has been to see a city transformed by the power of the Gospel through building champions who make possible desirable neighborhoods, lifetime learners, financial sustainability, and healthy communities for all.